Welcome to Notability: powerful, yet wonderfully simple note-taking and PDF annotation. This guide will help to provide everything you need to get started with Notability from navigating the app to using the tools and features.
The Library
After launching Notability, you'll see your note library.
This is where all of your notes, subjects, and dividers are shown. You can also create new subjects and dividers, create a new note, access templates & worksheets, scan a document, search notes, access the Gallery, import files from outside of Notability, and find the app settings.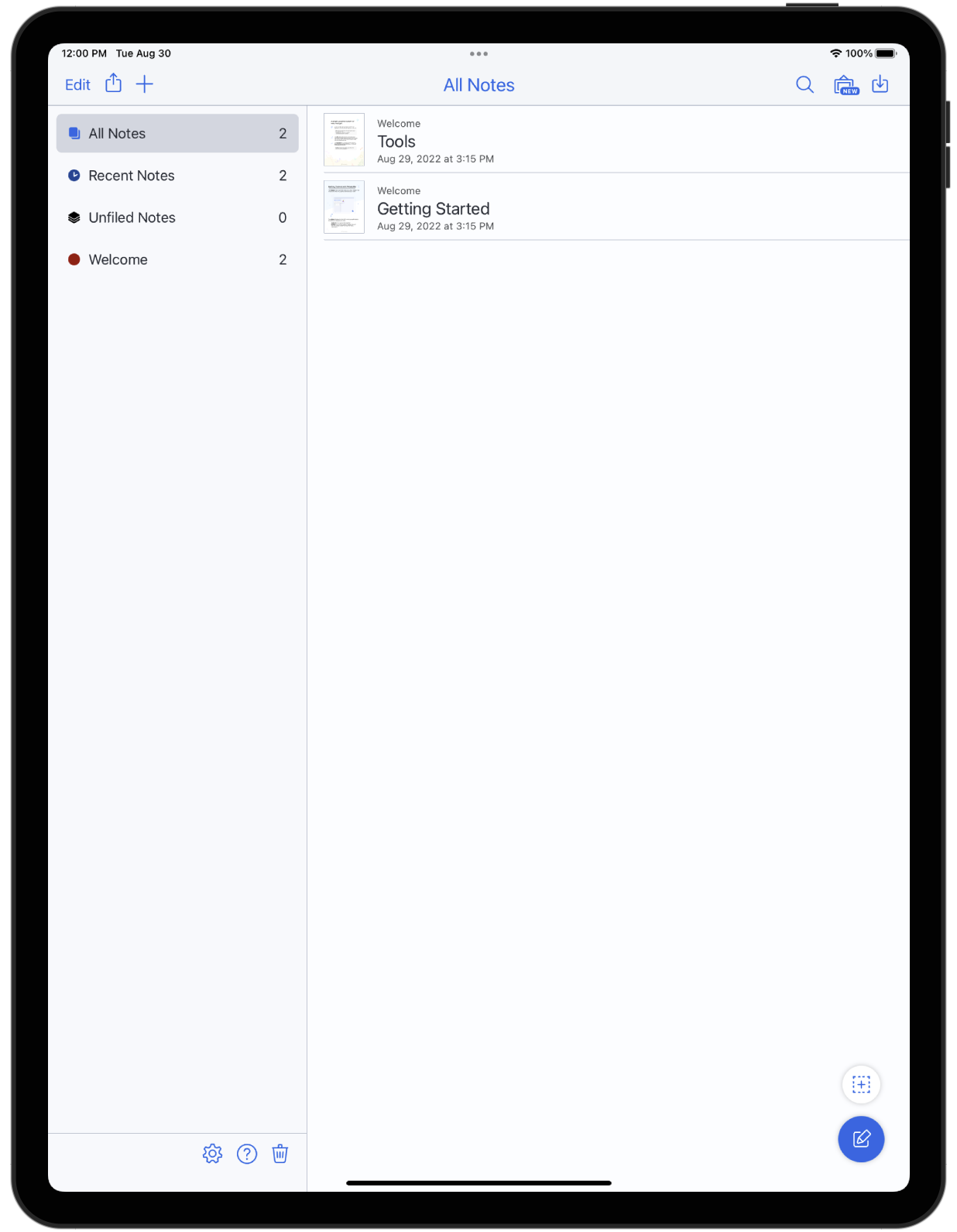 Creating a new note
Tap the
icon to create a new note. You can also create a new note from a Template, Planner, or Worksheet by tapping the
icon.

Using note-taking tools
Take notes using text or handwriting with an Apple Pencil. When you open a note, you will see a toolbar at the top of the screen (bottom of the screen if left-handed mode is enabled). Select a tool by tapping on it once. Tap on it again to reveal other customizations if available.

Export Tool: Select the icon to share your note outside of Notability.
Undo/Redo Tool: Select the icon to undo the last action. Tap and hold to redo the last action.
You can also activate the Undo Redo gesture with the following actions:

2 Finger Tap (2 finger tap to undo, 3 finger tap to redo)
3 Finger Swipe (3 finger swipe left to undo, 3 finger swipe right to redo)

Set the default for Undo/Redo gestures in Settings
Text Tool: Select the icon and tap anywhere on the page to start typing with the keyboard.
Writing Tools: Select or , tap Pen or Pencil, and tap the screen with your finger or Apple Pencil to start writing. Tap the tool icon again to customize color, ink/point thickness, and other options. Add the Pen or Pencil to your Favorites by tapping icon.
Highlighter Tool: Select the icon to add highlights to your notes. Tap the tool again to customize the pen color, ink thickness, and other options. You can also add the tool to your Favorites by tapping icon.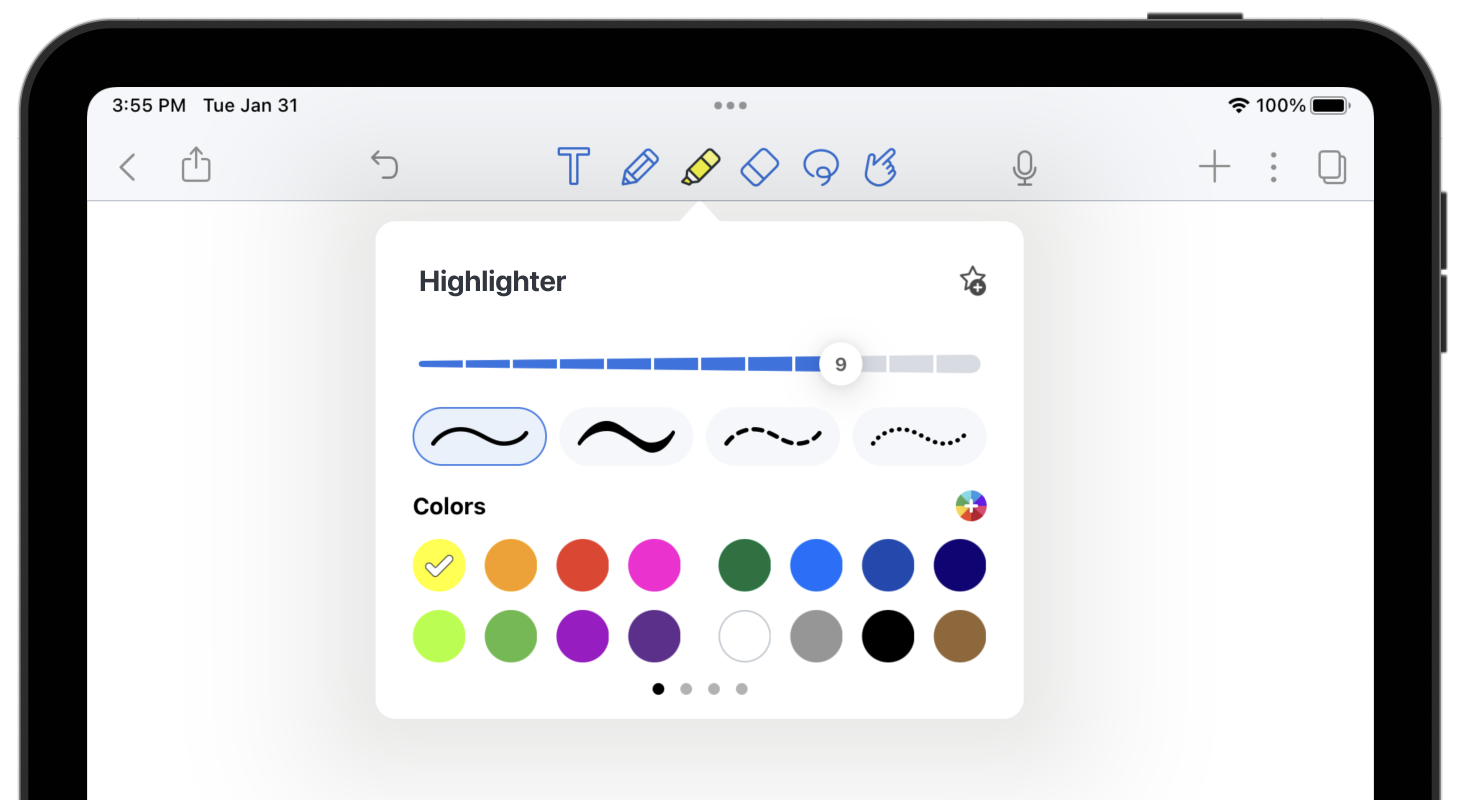 Eraser Tool: Select the icon to erase handwritten ink and highlighting. Tap the tool again to choose from a whole or partial eraser and eraser thickness. You can also add the tool to your Favorites by tapping icon.

Lasso Tool: The icon allows you to select objects on the page such as images, stickers, and handwritten ink to edit them further. You can also use the Lasso tool for handwriting recognition and math conversion. You can also add the tool to your Favorites by tapping icon.
Hand Tool: Select the icon to navigate your note in read-only mode. You can scroll through your note or access hyperlinks outside of Notability.
Microphone: Select theicon to start recording audio which allows you to record and replay audio, synced to your notes. More information can be found here: Recording and Playing Audio

Media: Select the icon to access Media options such as Photos from your device library, accessing the Camera, Document Scan, Stickers, GIFs, Stickies, and more.


More Options: Select the icon to modify the template being used in your note, change your note view, and more.
Templates: Choose a different template for your note. Only one Template can be used per note.
View: Choose between Seamless and Single Page note view. Seamless will always show the note title at the top of the page and you can scroll from top to bottom. Singe Page will hide the note title and you can scroll from left to right.

users can activate the Ruler feature that allows you to

precisely measure and create straight lines (or even erase edges)!

Info: View all your note information such as modified date, created date, word count, page size, handwriting language, and an option to disconnect your Apple Pencil.
Page Manager: Use Page Manager to take action with individual pages of a note. You can Add/Delete pages, cut, copy, rotate, and more.

Multi-Note and Note Switcher: Multi-Note lets you open and work on two notes at the same time in either horizontal or vertical view. Note Switcher allows you to quickly switch between notes.

Zoom: Zoom into detailed work and capture fine details by using Pinch-to-Zoom or select while writing to activate the target box.


Importing Files
Notability can import PDFs, RTFs, text files, Word docs, PowerPoint presentations, Excel spreadsheets, and the app's custom Note file format.
The most common way to import a file into Notability is to tap on the
button from the Library and choose an option such as Files or a cloud service (Dropbox, Google Drive, OneDrive, Box, or WebDAV).
Learn more: Importing Notes

Exporting/Sharing Notes
There are several methods for exporting/sharing notes outside of Notability. You can select and export a single note or multiple notes at once from the Library, or from within a single note.
Here are some quick steps on how to export a current open note:
Tap the button to export.

Choose a destination and file format.

Tap Send.
Learn more ways to export/share notes: Exporting Notes

For more information, FAQs, and troubleshooting help, check out the articles in our help center.